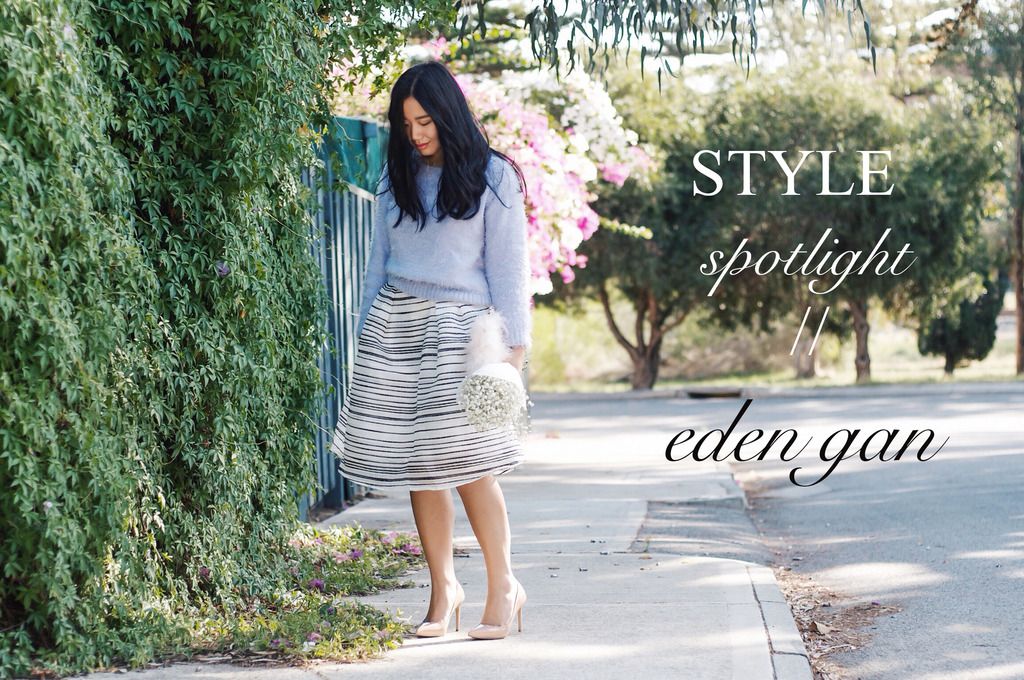 Eden, aka @violetpash has only recently started focusing on her fashion, beauty and lifestyle blog '
e by edengan
' as a creative and inspiration outlet for her personal style, travel, collaborations and event posts. She works in the fashion industry, currently in retail and as a stylist/photographer for us, here at Hello Parry. She is currently working on 'project e' which plans to feature three hand-picked Australian brands/businesses every month for the next year and has also recently hosted a small charity event, "For Nepal" to help them recover from their recent Earthquake. We are absolutely loving her minimal yet vibrant style so we caught up with her over coffee to ask her about her personal style, her current obsessions and her favorite picks from Hello Parry.
Describe your personal style:
My personal style depends on my mood and what I feel like wearing on the day. Recently I've been wearing a lot of pretty pastels but ultimately my style can either be very minimal in black, white or grey to a fun, flirty and very girly look. I would say that my style is very minimal but I do love to wear colour where appropriate.

What's in your bag?
I like to carry small bags so I don't normally carry much. My bag always, always contains my Prada wallet, Dior Lipglow, my house keys and my iPhone 5.
Cassandra Gingham Slip Silk Dress
,
Liz Black Slip Silk Dress
,
Noelle Black Leather Skirt with Lace Hem
.
Who are your style icons?
I am a huge fan of Gary Pepper Girl's work and I also love Neon Blush, Sincerely Jules, Song of Style & Oracle Fox.
What are your current obsessions?
I'm currently obsessed with brunch, interior designing, traveling (recently went to
Sydney
), babies breath flowers and I'm always on Instagram so I guess that counts as an obesession!
Where are your favourite brunch spots in Perth?
Ootong and Lincoln, Chinta, Hylin, Sprolo and if you're in Margaret River; Sidekick cafe does the most amazing Avocado on Toast w/Heirloom Tomatoes and Feta- their Iced Teas are amazing too!
It was a pleasure catching up with you and we wish you luck with all your future fashion and style endeavors! Check out Eden's most recent post
mon chéri
, which features our beautiful Nina Striped Ballerina Skirt and also follow her on Instagram for a daily fix of delicious food, fashion, travel and lifestyle.
Eden Gan
Instagram: @violetpash
E-mail: eden.gan@hotmail.com